Bitcoin Dominance Tracker
Get Bitcoin (BTC) Dominance monitoring and alerts delivered to your device.
What is BTC Dominance?
As defined in our crypto glossary, dominance refers to the percentage of the total crypto market cap that any specific cryptocurrency occupies. So BTC Dominance, for example, is the Bitcoin market cap divided by the total crypto market cap. This index is a common metric to indicate the relative strength of Bitcoin's price vs the rest of the altcoin space. In early 2017, BTC Dominance famously took a sharp turn downward as Ethereum and ICO's started gaining mainstream attention. The chart below shows this firsthand: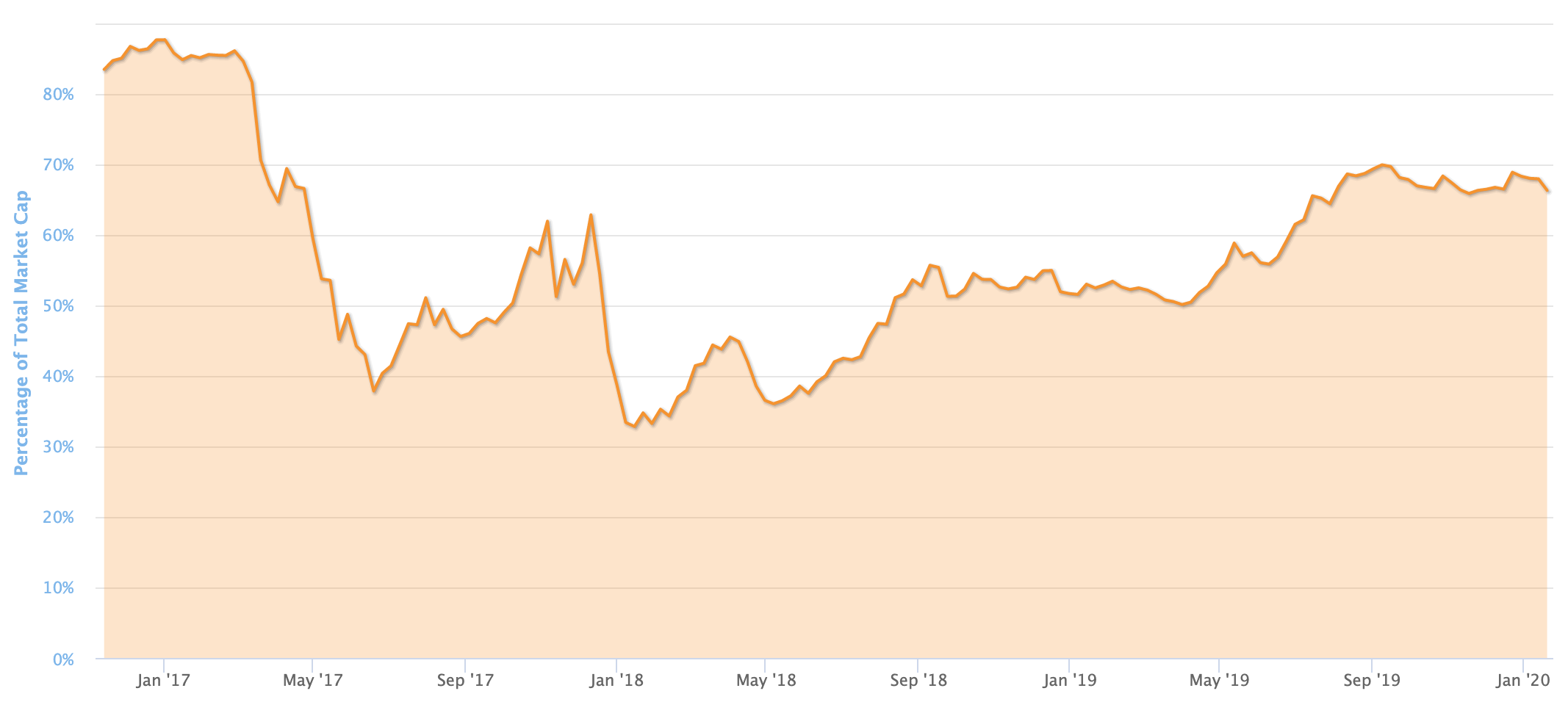 chart courtesy of coinmarketcap.com



This trend has largely reversed over the following years as BTC regained center stage. It plunged again in 2021 as another bull market emerged, centering on NFTs and other layer-2 blockchains. If one thing is certain, however, the story is far from over. Historically, dominance is an important crypto indicator — lining up with Bitcoin price spikes and the shifting altcoin narrative.



How do I Track Bitcoin Dominance?
Our platform offers free Bitcoin Dominance alerts, so you can get real-time notifications when dominance levels cross a given threshold. We collect market data every minute, so expect no delays when receiving an alert!

To get started, simply head over to the BTC Dominance alert page, or use the embedded form below. Select a method to receive alerts (we support 9 different notification methods) and specify a threshold that you would like to monitor.

You'll be prompted to sign up for a free account if you haven't already. You only need a valid email address to sign up. We ask for no personal information.

If you're looking for an "altcoin pump alert", you'll want to create an alert that indicates a sharp decrease in BTC Dominance. If you're a BTC maximalist, you'll probably be excited to see a big jump in BTC dominance.



You're all set!
Now that your BTC Dominance alert has been activated, you'll begin receiving notifications as soon as dominance levels cross the level you chose. But don't stop there, we have lots of other ways to monitor the crypto space:

Related Crypto Trading Indicators
Track the ebb & flow of Bitcoin's marketcap vs altcoins.
Create custom alerts based on
Bitcoin dominance
— the measure of BTC's marketcap vs the rest of the crypto space.
Choose from
many different ways
to receive alerts, including our Telegram, Discord and Slack bots.
Automatically follow the shifting narrative between the altcoin space and

BTC
.
Have a question?